WHAT IS THE CYCLE TO WORK SCHEME?
Cycle to work is a Government scheme setup to encourage people to use bikes instead of cars. As an incentive the cost of the bike can be deducted from your pre-tax salary monthly and therefore you pay less income tax. Your employer also benefits as they save on the employer's national insurance. So for example, on a £1000 bike, if you were a 42% tax payer you would save £420 and only pay £580 for the bike, and your employer would also save around £130! We are members of Cyclescheme, Bike2WorkScheme, Green Commute Initiative, Cycle Solutions and Caboodle.
save up to 42%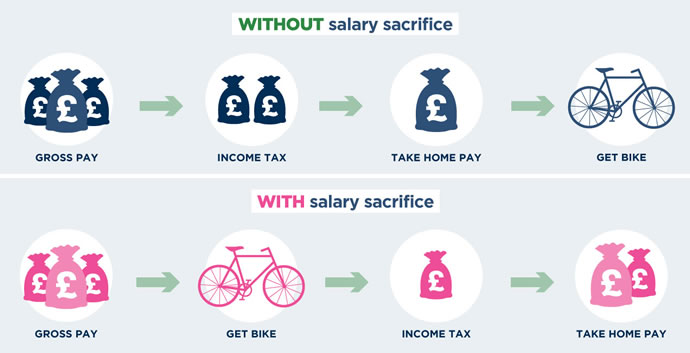 HOW DOES IT WORK?
Save money. Pay Nothing Up Front. Pay Monthly. No Credit Checks. It's Very Easy.
1. Complete the short form below and you will then receive a quote by email.
2. You then submit your application through Cyclescheme or Bike2Work. We will advise you which one your employer is a member of and the page to go to in order to complete the application.
3. You will receive a voucher by email and you just email this voucher to us along with ID or bring the voucher to our warehouse.
4. You get the bike and will pay monthly through your salary less the tax saving amount.
For more FAQs you can visit https://www.bike2workscheme.co.uk/employee/faqs